Working closely with Network Rail
We worked alongside Network Rail to deliver a new access road from a track line crossing point over 500m in length to the Network office block. The project had a strict deadline that required daily progress meetings in order to track and manage project goals and deadlines. The project covered a range of areas that we assisted with in order to deliver efficiently.
Location

Crewe

Completion Date

January 2022

Services Provided

Civil Engineering Services

Project Duration

4 Months
Our team took control of multiple areas to assist on the project with Network Rail including;
Full site GRP
Removal of existing lighting columns and pads
Reduced level dig to the existing haul road
Excavation & installation of a 36x6 attenuation tank
Proprietary box systems for the installation of 400m of 300mm diameter drainage pipe & petrol interceptor
550m of 6way easy duct system
500m of open trench work to take 4no new cable feeds from switch room one to switch room two, this included pulling the cables from point to point along with the installation of a new 63mm water main
1100m of 6x5 kerbs installed
450m of 300mm deep aco channels excavated out for & installed over a short period of time along with making the connections into the newly laid 300mm stormwater pipe
Full MOT make up of 380mm to the underside of tarmac level compacted in 2 layers
Fixing of all armco barriers, handrails, vehicle stops & road signs as well as R&M taking on the white lining for the scheme.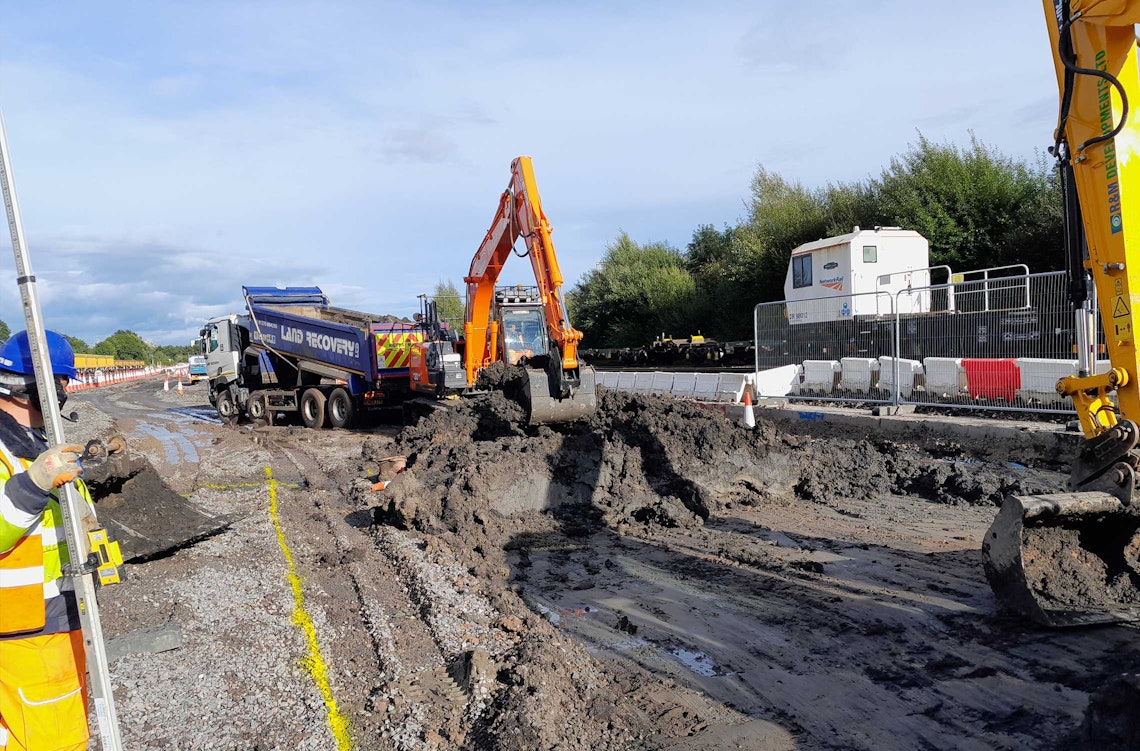 Our team also handled the UTX crossing as part of the ductworks, this could only be carried out at weekends due to several of the tracks that required working under still being live throughout the week, works included taking start point levels on the track itself & monitoring as work progressed, removing line clips from 3no timber sleepers & removing the sleepers from the underside of the track, from there an excavation under the tracks was carried out using a lightweight aluminium box as protection for entering the dig area, the easy duct system was then installed on a sand bed with full concrete surround, MOT backfill with the final 300mm being completed in railway ballast. The sleepers lined back to position & clipped correctly before handing back to NWR.
Go to the Previous Slide
Go to the Next Slide